Once again, James Corbett calls it like it is:
You have no doubt heard by now about the precarious situation that Deutsche Bank finds itself in, including the impending US government fine for selling faulty mortgage-backed securities in the run up to the financial crisis. The lamestream media is busy running stories about German bailout rumors, and bank's uncanny ability to not quite die…yet. But in case anyone is tempted to draw comparisons with the 2008 financial crisis, rest assured that the failure of Deutsche Bank would be no "Lehman Bros. moment." It would be incomparably worse.
Deutsche Bank is not just one of the largest banking and financial services companies in the world (although it is that). It is also one of the most inter-connected banks in the world. As the IMF helpfully pointed out earlier this year:
"Deutsche Bank is also a major source of systemic risk in the global financial system. The net contribution to global systemic risk is captured by the difference between the outward spillover to the system from the bank and the inward spillover to the bank from the system based on forecast error variance decomposition. Deutsche Bank appears to the most important net contributor to systemic risks in the global banking system, followed by HSBC and Credit Suisse. Moreover, Deutsche Bank appears to be a key source of outward spillovers to all other G-SIBs as measured by bilateral linkages."…
…Well, in 2013 its notional derivative exposure was 55.6 trillion euros. Let's put that in perspective with a graphic from ZeroHedge comparing DB's derivative exposure to the Gross Domestic Product of Germany.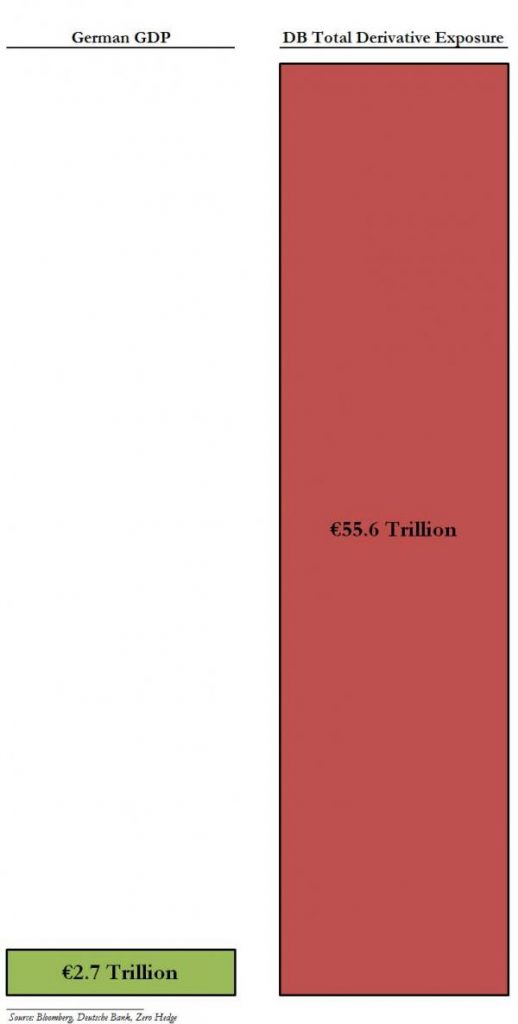 Does that look frightening? Well, don't worry. Deutsche's derivative black hole has been pared back to a much more modest 46 trillion or so euros, a mere 15 times German GDP.
Does that make you feel any better? I didn't think so.
End of quote.
It's not if with Deutsche. It's when.
And the counterparties began to pull their cash out of Deutsche last week.
Not long to go when that starts.
Richard
Check out the extraordinary new, life-changing technology at www.magravsplasmaproducts.com